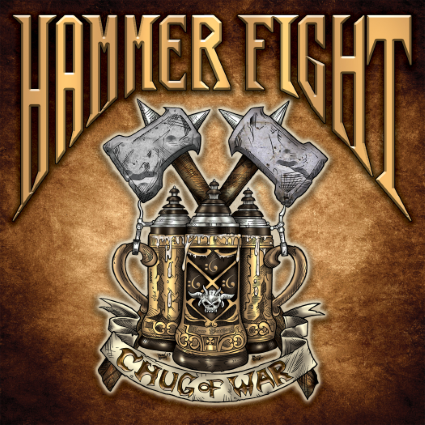 New Jersey thrash n' roll devils HAMMER FIGHT will release their debut full-length album, Chug of War, on November 12 via Horror Gore Pain Death Productions.
Chug of War, which follows the band's 2011 untitled EP, was recorded by Bobby Torres at The Machine Shop in Belleville, NJ. Artwork for the album came from a collaboration between Hammer Fight bassist/vocalist Drew Murphy and Buz Hasson, tattoo artist and co-creator of the comic book The Living Corpse.
Guitarist Todd Stern comments on Chug of War, "It's something we've all been looking forward to putting out forever. A record that isn't here to compete sonically with the current state of metal affairs. Rather than taking a crack at being the heaviest, the darkest, or the fastest… we aimed for a record that would serve as the catalyst that helps transform your boring day into a good fucking time. Listen loud, rock hard, and have FUN kids. That's what counts most…"
This is a great album with lots of quality tracks ! For me 8/10 !