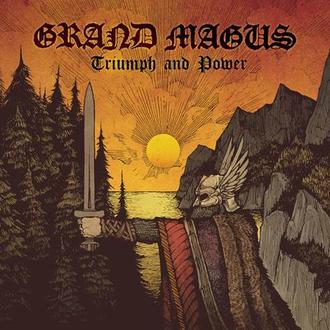 You can listen to a great song of this new album at this post. The record was recorded at Studio Sweetspot in Halmstad, Sweden this past September with producer Nico Elgstrand and engineer Staffan Karlsson (ARCH ENEMY, SPIRITUAL BEGGARS). Triumph And Power is set to be released on January 31 (Europe) and February 4, 2014 (N. America) via Nuclear Blast.
According to their own description, we are proud to present you "viking metal". Whatever that means, I'm not sure. But damn good metal it is with even epic propotions !
As they say themselves : This is our strongest album yet. It has the northern feel. It has the power and the melody that has become our mark of excellence. Fans of true metal will take this album to their hearts. To top everything off, we have the striking and epic artwork of Anthony Roberts. The album cover perfectly captures the work on this album and GRAND MAGUS as a band. Stay true!
Triumph And Power tracklisting:
'On Hooves Of Gold'
'Steel Versus Steel'
'Fight'
'Triumph And Power'
'Dominator'
'Arv'
'Holmgång'
'The Naked And The Dead'
'Ymer'
'The Hammer Will Bite'
Bonus:
'Blackmoon'